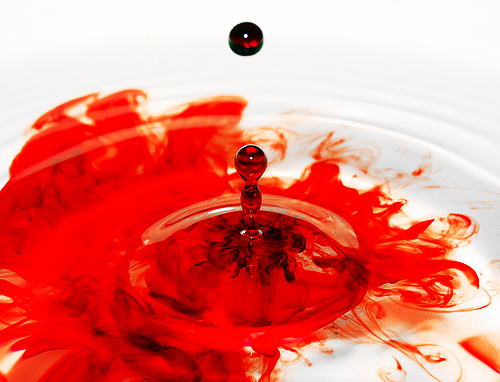 Here are the creative activities they suggest to bring the plagues to life with your children at the family Seder. My comments in red.
1) BLOOD
-- Prepare a large, clear pitcher -- empty except for some red food coloring inconspicuously at the bottom. At the appropriate moment, pour in some water -- and watch the water magically turn to "blood!" (One technical point: Don't do the opposite and pour the food coloring into the water, as that would be a problem of "coloring" which is forbidden on Jewish holidays.
(Take home message for the kids: Making light of suffering: okay. Coloring on Yom Tov: not okay.
)
And if you're really brave, drink a little of the water, to re-enact the Midrash which says that even during the plague of blood,
the Jews could still drink and have it taste like "water!
"
Ignoring for a minute the colossal lapse in judgement of whoever wrote that last sentence (think for a minute what is one of the WORST antisemitic lies told about Jews, and how Aish just supported it.)
Isn't blood treif? Oh . . not fake blood! . . . It's just like fakon!
2) FROGS -- Have everyone get out of their chairs and hop around the room, croaking like frogs. It's a good opportunity to stretch before the next part of the Seder.
3) LICE
-- Go to your local toy store and buy a bunch of plastic bugs. At the appropriate moment, toss them onto the lap of the person next to you.
Oriental Trading Company
is a good source for plastic insects, and for other animal-based plagues!
4) WILD ANIMALS -- My personal favorite. Toy stores are filled with all kinds of plastic lions, snakes, elephants and bears. Plus you can put on a tiger mask or even a full gorilla costume to really get everyone in the spirit.
5) PESTILENCE
-- This is the plague where all the animals died of disease. If you can impersonate a dead animal, go right ahead...

Just what I want my kids to be doing.
6) BOILS
-- The Egyptians were covered with open sores which caused them unbearable itching! Have everyone at your Seder table break out into an uncontrollable fit of itching.
Ha, ha! Oh what fun!
7) HAIL -- - Marshmallows (kosher for Passover!) work best for this. Foam balls and cotton balls work, too. If you're more adventurous, use ping-pong balls.
8) LOCUSTS -- What do grasshoppers do? They hop. It's good exercise before the festive meal.
9) DARKNESS -- Since the laws of Yom Tov forbid the use of electricity, don't turn off your lights. I know somebody once who tried to be very clever and put his lights on a "timer," set to go off during the plague of darkness. He misjudged, and they wound up eating most of the meal in the dark. A better alternative is to have everyone put on a blindfold and try walking around the room for two minutes!
Another idea: The Midrash says that during the plague of darkness in Egypt,
the Jews searched the Egyptians' homes for valuables, which they were later given as "payment" for the many years of hard labor. So try hiding costume jewelry around the room, and turn it into a treasure hunt
.
While we're glorifying suffering, let's promote looting and stealing, why don't we? They had it coming, anyway!
10) FIRST BORN -- We don't recommend you try this at home. We certainly would have preferred that the Egyptians would have acknowledged God's sovereignty, and been spared this terrible punishment.
The above could be rationalized by arguing that Aish sees the Exodus story the way we might see fiction - as an allegory. Nevertheless, Aish's blurb following the tenth plague suggests that they interpret the plagues literally. Thus, Aish is - possibly inadvertently - celebrating real suffering - human and animal.
I know I may come off as the same type of morality police that I pretty harshly criticized here.

I do understand that seders can be long and tedious, and it may be difficult to engage children,

I'm not trying to rain on the parade - if you are into making blood with your kids at the seder - go for it! My reactions - as everything in this blog - are a culmination of my personal experience.M

y family's superstition/taboos around death made Aish's suggestions - particularly the first - seem unnecessary gory to me.

I have only ever been to seders with Mr. CL's family, and they have always consciously treated the plagues in a somewhat solemn ritualistic manner by dropping wine symbolizing that we do not celebrate the suffering of others. Maybe it's common for other seders to make a party of the plagues? I don't know. What does your family do?